Victoria International Airport Parking
The Victoria International Airport lies 22km from the North Saanich Peninsula, in the British Columbian Region of Canada. The airport is close to the Patricia Bay and is known to provide service to Victoria, British Columbia, Canada. The airport became operational in the year 1939, as a military training airfield which was later taken over by Department of transport in 1948 to use as a passenger airport.
The airport served almost 2 million passengers in the year 2017 and recorded 123,078 aircraft movements to it's 14 non-stop destinations. The airport has three runways and a single passenger terminal. It also includes one cargo terminal that has a warehouse capacity of 900 tons. The airport can be reached by various transport including bus, taxi, bicycle, and car.
Parking your car at the airport is exorbitantly priced- TravelCar extends good parking options at this airport by giving away low cost parking choices clubbed with outstanding customer service.
Victoria International Airport Address and Map
| | |
| --- | --- |
| Airport's legal address | 201-1640 Electra Blvd, Sidney, BC V8L 5V4, Canada |
| IATA Code | YYJ |
| Airport type | Public |
| Phone number | +1 250-953-7500 |
| Airport's traffic | 1,934,842 in 2017 |
| GPS Coordinates | 48°38′50″N 123°25′33″W |
The Victoria International Airport is a world-class passenger airport with a terminal for cargo as well. The airport falls in the Saanich Peninsula region with the passenger terminal based in North Saanich and part of Sidney. The place was previously named as Patricia Bay airport which was changed in 1959 to "Victoria International Airport". The airport extends its service to Victoria, which is the capital of the British Columbian region of Canada.
Victoria is the 10th busiest airport across Canada in terms of passenger count and second busiest in British Columbia in terms of both aircraft and passenger movement. Although the airport is a major public airport it also deals in cargo and has a bonded warehouse having a capacity of 900 tons. The airport experienced a footfall of almost 2 million passengers in 2017 across its 14 destinations on 10 airlines. The airport has various amenities which have helped it gain attention from various low-cost airlines as well as international carriers.
The Victoria International Airport hosts three runways that are coated with asphalt. The first runway stands at 2133 meters, the second at 1532 and the third is 1524 meters long, and have the capacity to handle both smaller and larger airlines with comfort. Moreover, with three runways, simultaneous landing and takeoff are undertaken smoothly.
Cheap Parking in the Victoria International Airport
Victoria International Airport provides on-site parking facilities for cars arriving at the airport. There is both short-term parking zone and long-term parking zone with the facility to cater to special needs parking. There is even overflow parking available which becomes active after all other parking lots are filled. The airport has no scarcity of parking lots, for people, yet the kind of crowd it experiences leads to difficulty in finding a space. Moreover, the parking places located close to the terminals are charged higher.
TravelCar, a parking lot provider following the peer to peer business, proves a convenient and affordable option for passengers looking to have parking zones. The business is a major name worldwide, with its operations extending to most major airports. The business offers cheap parking fees along with superior customer services which make them lucrative in the eyes of its customers. Additionally, why TravelCar proves worth your attention is the fact, that all its parking locations are situated near to the airport terminals which aids in saving lots of time. Moreover, TravelCar also gives its customers free shuttle service from the allocated parking spots to the terminals so that you can reach your destination on schedule. The superior service delivery has earned them the title of "almost an Airbnb for the car hire world", by its passengers. The low cost parking proficiency with efficient customer service team has made them a remarkable alternative to popular car-hire firms present across the globe.
The popularity of TravelCar however, lies upon its strategy where it gives all parties an equal opportunity to earn some quick bucks. According to the scheme, TravelCar will rent out vehicles under its parking zones to genuine customers and in lieu of which the original vehicle owner will get both free parking and some money. The scheme is, however, applicable to cars that will be kept under TravelCar's care for more than three months. Additionally, the vehicle owners also receive a well-maintained car; on their return. Since TravelCar genuinely cares about its customer; it follows a more holistic pattern of business and offers scheme and parking facilities for all types of clients and with varied budgets.
In case you are willing to try their valet services, you will not face any disappointment. The vehicles under their care are washed, oiled and detailed before it is reclaimed by the client. Additionally, all vehicles under their custody are kept under CCTV surveillance so that it remains safe, by the time it is returned. There are even guards posted across the parking zones to ensure optimum safety of the vehicles parked. TravelCar undertakes its customer's trust very seriously and works responsibly to provide complete satisfaction to its clients. The working hours of the business is usually from 6 am to 12 am, however, it is extended based on need.
TravelCar parking locations
Airports- Cardiff, Heathrow, Glasgow, Liverpool, Edinburg, Manchester, and Gatwick are some of the major names that fall under TravelCar's domain of service. The presence of the business at important local and international destinations defines its impressive existence and acclaim in the car-parking and car-sharing industry.
Train Stations- Kings Cross, Waterloo, Charing Cross, Victoria, Paddington, are some of the important stations. Finding parking zones at these locations prove a tedious affair, but with TravelCar, you experience low-cost parking which is both safe and easy to reach.
Cruise Ports- Port Harwich, Port Portsmouth, Port of Southampton, Port Dover, and London-Tilbury cruise ports are few of the most crowded ports that experience high footfall and scarcity of parking spaces. TravelCar provides cheap parking options at these places combined with exceptional service quality.

Additionally, TravelCar provides ultimate security to the vehicles parked under its care. The parking zones under its service remain under 24 hours CCTV surveillance. Guards are also deployed at these zones to ensure complete safety of the vehicles.
Victoria International Airport Gates Presentation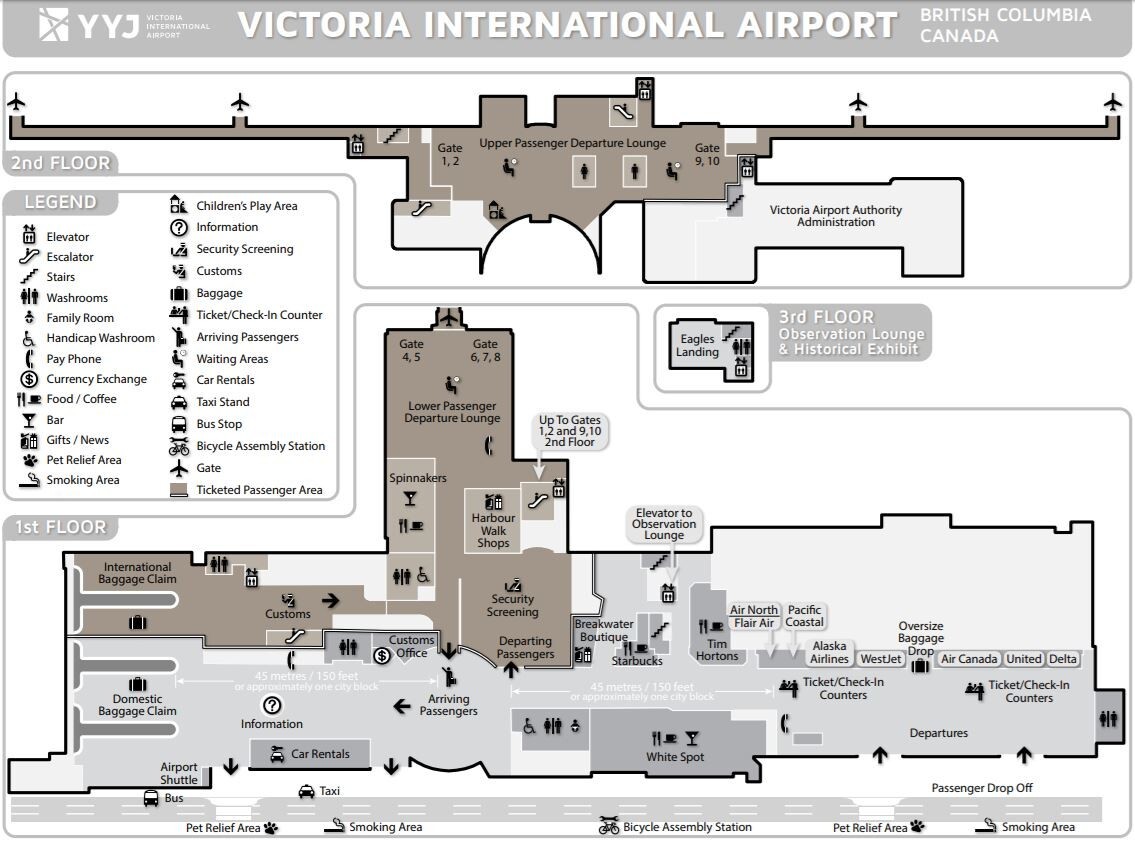 | | |
| --- | --- |
| Single Passenger Terminal | Total 9 gates: 1 to 2 & 4 to 10 |
| | Gates 1, 2, 5, & 6 deal with International flyers arrival |
| | Gates 1, 2, 9 & 10 for aircraft loading bridges |
The terminal building is comprised of 12 gates and has three luggage carousels, out of which one is for international travelers and rest for domestic flyers.
The facilities at the terminal consist of free Wi-Fi, restaurants, bank, tourist help desk, car rental services, cafeterias, bars, taxi service and assistance for the disabled.
TravelCar's advantages
TravelCar ventured into the business of car parking with a mission to provide low cost parking spaces to its customers, and it has been successful in its efforts. TravelCar is widely acknowledged by its clients for its exceptional offerings and quality of service. The free parking proposal of the business finds huge appreciation from its customers who travel for longer durations. The scheme allows customers to earn some quick money and discounted rentals for the vehicles parked under their care.
It is a well-known fact that parking is a difficult job at major ports, train stations, and airports. TravelCar stands as a huge relief to customers as it helps with your parking space. The organization provides customers with online parking space booking facility at lowest costs which not only saves time but also consumes less energy.
The fact that all TravelCar's parking spots are based closer to the airports makes them more impressive, as it saves loads of time of the passenger. With free shuttle service from TravelCar's parking spot to the terminal, the client tends to always have an upper hand as per convenience. Additionally, the frequency of the service is also good which adds on to the comfort of the flyers.
The positive review of the customers even attracted the attention of various rating agencies that began noticing the venture. Eventually, Trustpilot, a reputed rating agency awarded TravelCar a score of 9 for their superior service quality.
The free parking service is offered to customers who leave their cars under the custody of TravelCar for more than three months. The lesser duration vehicles enjoy discounted rates which are much lower than actual airport parking charges.
Valet Services
The auto-rental offers both automated and valet parking facilities on their business locations at affordable rates. So, if you foresee the need to use valet services then you can make a booking for the same, online. A trained valet will take away the responsibility, and safely park your car at the designated parking spot. There are also covered and uncovered parking destinations which can be chosen by passengers as per choice.
Moreover, with cheap parking privilege and valet services comes complete safety and protection of your vehicle. As all parking zones of the organization are manned by guards and CCTV cameras to ensure proper security of the vehicles. TravelCar being a responsible firm keeps customer satisfaction at priority and for that, it takes all effort including proper maintenance of your car in its care. This ensures that the vehicles remain in good working condition by the time of your reclaim.
The working hours of the business lies between 6 am to 12 am, however, services can extend as per request.
Friendly Customer service
TravelCar's customer care team is available 24x7 to handle all booking request and issues as per parking at various locations. However, at airports, it even lets you compare their low cost parking facility with its competitors, so that you can make better decisions. Their ability to provide exceptional customer service makes them respectable in the eyes of its customers.
Moreover, with TravelCar's main focus centered on providing brilliant customer service, its team also practices the standard protocol with diligence.
Access to Airport
There is rapid transit facility existing at Victoria International Airport.
Public Transit
Bus service to the airport is handled by BC Transit which includes 28 departures from the airport and McTavish Transit Exchange along with many connections to Swartz Bay, Downtown Victoria, and Saanich Peninsula.
| | | |
| --- | --- | --- |
| No. | Bus route number | Bus route |
| 1 | 70 | SwartzBay/Downtown |
| 2 | 72 | SwartzBay/Downtown |
| 3 | 83 | Sidney/Brentwood/Royal Oak |
| 4 | 88 | Airport/Sidney |
Taxi & Shuttle
The Victoria International Airport offers taxi service from the Yellow cab of Victoria and direct bus shuttle from YYJ Airport Shuttle.
Car
The airport can be reached by car via Highway 17 from the downtown of Victoria in about 20 minutes.
Other Information
Being late for a flight is the most stressful experience that a flyer can have and if there are traffic jams or snarls en route, then the tension increases more. With several international and domestic airlines operating from Victoria International Airport, YYJ is a busy place. It is always advisable to leave early for your flight so that you are able to manage all boarding requirements like security checks, luggage check-ins, boarding the flight, well on time.
If reaching the airport is tenacious, locating a parking spot for your vehicle is more problematic, especially when you are running late for your flight. The best solution to the difficulty lies in the hands of TravelCar. The valet service provided by the business takes away your parking woes. The professional valet providers park your car in a safe environment; you just require handing over the keys to them. Moreover, TravelCar lets you achieve both cheap parking facilities along with pocket-friendly valet charges.