Vancouver Airport Parking
Owned by Transport Canada and managed by the Vancouver Airport Authority, Vancouver International Airport (YVR), located on Sea Island in Richmond, is often referred to as the Pacific Gateway.
The airport opened in 1931- it began with a single runway and just 1,072 passengers and today it is Canada's second busiest airport that operates flights to over 118 non-stop destinations. Passenger traffic exceeded 24 million in 2017.
Vancouver International is one of the eight airports in Canada that have "US Border Preclearance Facilities". YVR has three terminals, three runways and also a floatplane facility. The airport is easy to access via public transportation and it offers a variety of parking options.
TravelCar, founded in 2012, has a large network of cheap parking facilities and offers passengers parking spots at airports, train stations, city centers.
Vancouver Airport Address and Map
| | |
| --- | --- |
| Airport's legal address | 3211 Grant McConachie Way, Richmond, BC V7B 0A4, Canada |
| IATA code | YVR |
| Airport type | Public |
| Phone number | +1 604-207-7077 |
| Airport's traffic | > 24 million passengers in 2017 |
| GPS coordinates | 49°11'24.60" N -123°11'1.20" W |
Vancouver International Airport (YVR) is about 7.5 miles from Downtown Vancouver and is in close proximity to the Richmond City Center. It is located in Richmond on Sea Island in the province of British Columbia.
This airport is considered the second busiest airport in Canada in terms of passenger traffic and also aircraft movements. It not only has the distinction of being the Best Canadian airport (regionally) but has also been awarded the Best North American Airport Award for 9 years in a row.
YVR operates non-stop flights to many airports within Canada and also to Europe, Asia, Mexico and the United States, and is regarded as the major gateway between Canada and Asia. Vancouver International Airport (YVR) is the first to launch a program to help autistic travelers get through airports faster.
TravelCar, a global trendsetter in airport parking and automobile-sharing, has eased the problem of parking at busy airports by providing low cost parking spaces near the airport.
Cheap parking
To get a parking space at or near the airport without booking in advance is difficult, but to get one that's inexpensive and close to the airport is nothing short of a miracle. TravelCar is that miracle- it offers cheap parking – lower than that offered by other providers and that too near the airport.
As the parking provider has partnerships with local car rental agencies, it's able to offer parking spaces almost anywhere you want- at the airport, close to it or even near your hotel. TravelCar has thus erased much pain points almost always associated with parking spaces at crowded places. Its inexpensive parking options are always in great demand as are the other services that it offers.
Normally, parking fees are in proportion to the duration of your stay-but TravelCar is unique. If the parking period exceeds 3 months, then parking fees are waived and even if the duration is less than that, the parking fees that are payable are considerably less than what's usually charged by other providers. Even the normally 'high-priced' valet services are offered for just a fraction over the regular parking charges.
Its customer-centric approach is visible in all that TravelCar does- its parking spaces are near the airport, they can be easily accessed. The creamier part of it is that free shuttle services to and fro the airport conveniently transport passengers from the parking lots to the terminal.
Parking lots are safe and secure and are under constant video surveillance- TravelCar takes its responsibilities very seriously and theft is greatly minimized.
TravelCar parking locations
TravelCar, headquartered in Paris, has a tailor-made solution for parking problems and its presence at places with hectic passenger activity is very relieving.
Airports:- Vancouver coal Harbor airport, Boundary Bay airport, Meadows airport, Maple Bay airport, Toronto Pearson International, Calgary International, Montréal-Pierre Elliott Trudeau International, Billy Bishop Toronto City are major airports in Canada. Being busy locations, passengers find it hard to secure parking spaces. TravelCar comes to their help by providing cheap parking solutions that are very convenient.
Train Stations: Central Station/Gare Centrale, Montréal, Québec, Gare Lucien-L'Allier Station, Toronto Union Station. Pacific Central Station and Waterfront Station are major train stations in Canada, where parking fees are always at an all-time high and parking spaces in great demand. TravelCar overcomes the problem by offering low cost parking spots that are convenient to access.
Cruise Ports: Port Metro Vancouver in British Columbia, Port of Montreal in Quebec, Port of Halifax in Nova Scotia, Port of Mississauga, Port of Toronto in Toronto, are always abuzz with passenger activity. TravelCar provides low cost parking spaces close to the port and minimizes the parking problem to a great extent.
The safety and tight security of TravelCar's parking lots are very reassuring for passengers that park their cars with the parking provider. CCTV surveillance, security guards, and close monitoring ensure that passengers' cars are safe and secure.
Vancouver Airport Gates Presentation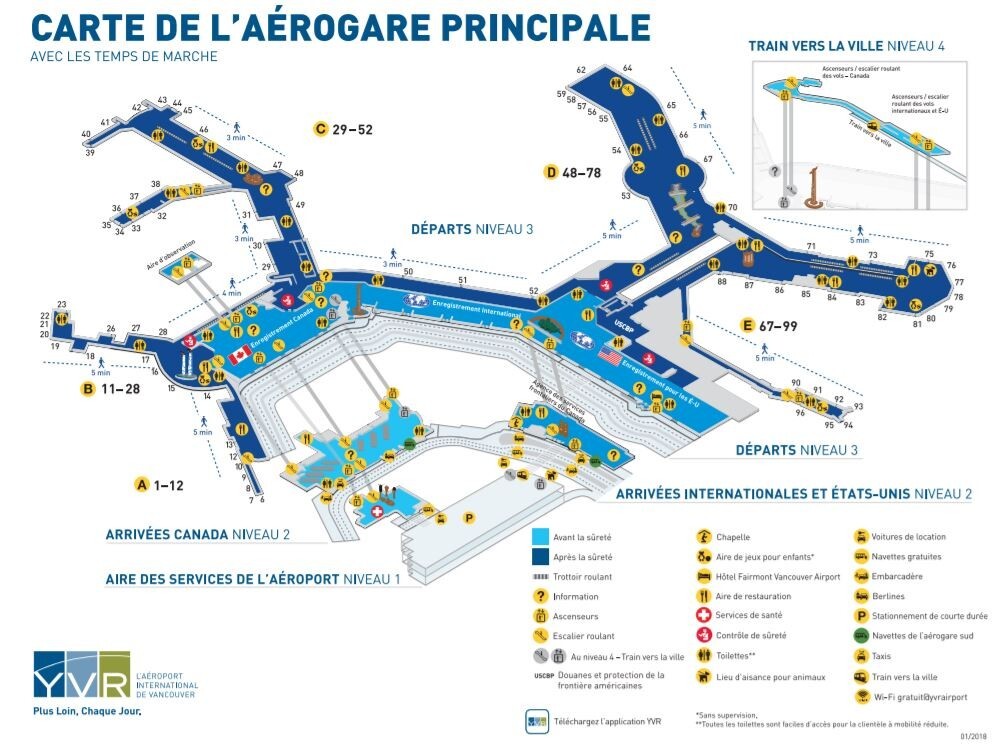 Domestic Terminal




Concourse A




Concourse B




Concourse C

Gates A6 to A12 (7 Gates)

Gates B13 to B23, B26 to B28 (14 Gates)

Gates C29 to C52 (24 Gates)

International Terminal




Concourse D




Concourse E

Gates D50-55 (6 Gates)

Gates D58, D59. & D62 (3 Gates)

Gates D64 to D67 (4 Gates)

Gates D70, D73, & D75 (3 Gates)

Gates E76 to E88 (13 Gates)

Gates E90 to E96 (7 Gates)
With three runways and three terminals, YVR is considered as Canada's 2nd busiest airport. The main terminal is divided into two sections- the Domestic and the International Terminal. The South Terminal is known as Airport south.
Domestic Terminal
The Domestic Terminal was constructed in 1968 and consists of three concourses- A, B and C.
International Terminal
The United States Border preclearance facilities are located here. There are 2 concourses D and E. D50 to D52 are swing gates that are used by domestic flights (C50-52)
Airport South
Consists of the South Terminal, the Floatplane Facility, and deals with other operations. Serves regional airlines and also chartered flights.
Advantages of booking through TravelCar
Pricing and trust:
From its inception, TravelCar has strived to be a 'people's' parking provider. Starting from its seamless booking process to its easy reservation of parking spaces, customers have found it plain sailing. Coupled with its low cost parking prices and other highly affordable services, the parking provider offers a convenient, credible and friendly alternative to other providers that are on-site.
Trustpilot, the top rating service assigned TravelCar a well-deserved 9+ for the professional manner in which it operated, and the excellent customer service that is meted out. This when coupled with cheap parking alternatives and other highly affordable services makes TravelCar a provider with 'unbeatable credentials."
There's more that TravelCar has to offer- Though its low cost parking lots are close to the airport, it offers free shuttle services to enable convenient and comfortable commuting from the parking lots to the airport terminals. Travelers are thus reassured that they can make it to the terminals well before their flight.
Prompt Valet Services:
Most of us would rather do 'less' and get more- TravelCar's valet services are a perfect example of a way to achieve that, especially when you're in a tearing hurry and need to rush to catch a flight. No sooner you drive into the airport than your car is taken over by a watchful valet, who parks your car for you and keeps it safe during your absence. This is a convenience that most of us would like to avail of, given the kind of problems that we face while trying to find affordable and secure parking spaces at busy airports.
In contrast to automated parking and self-parking, where the customer finds a parking space and parks the car, valet-parking is a concept where a valet parks customers' vehicles for them. TravelCar's valets have years of experience under their belts and are a picture of efficiency and speed. They are very respectful and exude a confidence that is very reassuring to travelers, who leave their cars and the car keys in a valet's possession. They are very attentive to customer needs and bring the car around to the entrance of the terminal when required. The whole process is so smooth that travelers have peace of mind, before, during and after their trip.
Courteous and Efficient Customer Service
In its strictest sense, customer service means delivering professional and high-quality service to people that are transacting a business or buying a product. TravelCar has redefined the term to envelop many more aspects- Its customer-centric approach ensures that customers are satisfied during the customer journey and remain so after the transaction is complete.
Right from the moment customers approach them till they leave, TravelCar provides support on all fronts- so much so that customers get what they want without having to ask a second time. Issues and problems just don't exist for they are solved the instant they surface. If customers are the engines that help run TravelCar, then TravelCar feeds those engines with fuel so that they never falter.
The customer service teams and personnel work hand in hand to ensure that customers never suffer. They are professional, friendly, and knowledgeable and are always willing to lend a hand 24/7- whatever the issue may be.
Access to Vancouver Airport
There are many ways in which Vancouver International Airport (YVR) can be reached from downtown Vancouver and its surrounding areas. The City of Vancouver in combination with TransLink operates and plans public transit services.
Public Transit
Rapid transit - automated trains that run above and below ground. The Expo Line and the Millennium Line are part of SkyTrain. The Canada Line operates between the airport and downtown Vancouver and links Richmond and downtown Vancouver to YVR. Though there are 16 stops on this line, the journey time to the airport is less than half an hour. YVR-airport is the airport's own station on the SkyTrain network.
Bus
When the Canada line service is unavailable, N10 night bus connects Richmond and downtown Vancouver to the international and domestic terminals.
The C92 bus serves the South Terminal- at Bridgeport Station, it connects to the Canada Line.
YVR Whistler SkyLynx- connects Whistler and Squamish to YVR
Shuttle services
Ace Charters Vancouver- connects areas such as Richmond, Surrey, North and West Vancouver, Abbotsford, Aldergrove, Burnaby, Delta to the airport.
By car
Driving between downtown and the airport is very simple as you just have to follow the signs. From downtown, go on Granville Street till you reach West 72nd Avenue. When you're onto SW Marine Drive, take the road to the left and cross the Arthur Laing Bridge. You will reach Grant McConachie Way- this takes you directly to the airport terminal.
Taxi
Taxis operate from the airport and licensed taxis can drop off travelers at the airport terminal itself. You also have the option to use the airport's official licensed limousine company to drop you off at the airport.
Bicycling
YVR's Sea Island is a great place for biking enthusiasts and they can reach the airport through many bike paths and lanes carved out specifically for that purpose.
Other information
Who doesn't want to enjoy the upcoming trip- that however, is possible only if your pre-trip plans go according to schedule and you don't have a nervy time trying to find a parking space at the airport. Well, the planning is in your hands but the parking space isn't. That's why it's wise to entrust your parking to TravelCar, the parking provider that thousands trust. It not only provides cheap parking spaces near the airport but also provides valet services for those who don't want to be bothered about the throes of parking.