Ottawa Macdonald–Cartier International Airport Parking
Ottawa Macdonald-Cartier International Airport (YOW) was built in the year 1927 and is named after two very eminent Canadian Statesmen- Sir George-Étienne Cartier and Sir John A Macdonald.
Situated about 6 miles south of downtown Ottawa, YOW serves as a hub for a couple of airlines. Non-stop flights also operate between the airport and Mexico, the Caribbean, Canada, Europe and the United States.
The airport has three runways, one commercial passenger terminal and two distinct airfields that are connected via a taxiway. Because of good transportation options, the airport is easy to access from the city center and other surrounding areas. Parking is offered at the airport and also away from it.
TravelCar, founded in 2012, has a large network of cheap parking facilities and offers passengers parking spots at airports, train stations, and city centers.
Ottawa Macdonald–Cartier International Airport Address and Map
| | |
| --- | --- |
| Airport's legal address | 1000 Airport Parkway Private, Ottawa, ON K1V 9B4, Canada |
| IATA code | YOW |
| Airport Type | Public |
| Phone number | +1 613-248-2125 |
| Airport's traffic | Almost 5 million in 2017 |
| GPS coordinates | 45°19′21″N 075°40′02″W |
Ottawa Macdonald-Cartier International Airport (YOW) is in close proximity to the Ottawa city center- just 10 miles away from it. Ottawa is the capital of Canada and this airport serves the state of Ontario and also Ottawa in Canada.
It is considered the eighth busiest by aircraft movements and the sixth busiest in Canada by passenger traffic. Many domestic and international airlines operate from the airport to over 40 destinations in Canada and also across Europe and the United States.
YOW gets its name from two Canadian Statesmen- Sir George-Étienne Cartier and Sir John A Macdonald. The Airport forms a part of Canada's busiest air corridor between the Eastern Triangle, which consists of Montreal, Toronto, and Ottawa. It is also considered as a gateway for flights to the Eastern Arctic.
With thousands of visitors and travelers visiting the airport every day, parking spots are hard to come by. However, with TravelCar, the global innovator in airport parking around, low-cost parking spaces are easy to be had.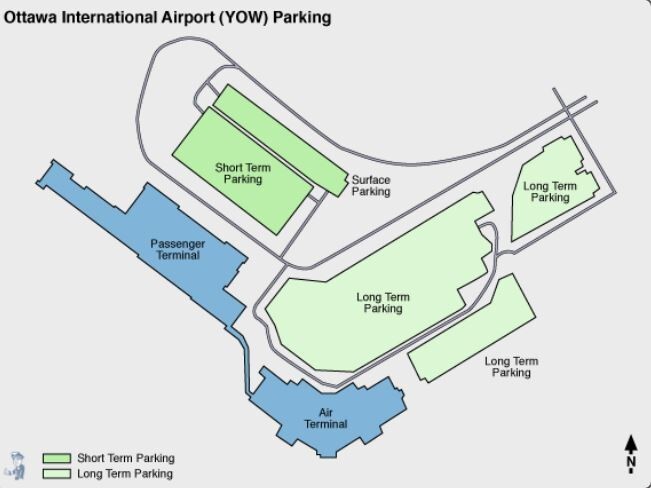 Cheap parking
Parking at busy places is extremely difficult and parking at airports is sometimes impossible. It's at times like this that TravelCar can prove very handy. It not only provides parking spaces close to the airport but also offers low-cost parking- much lower than that offered by other providers.
The parking provider also offers travelers a choice of parking slots- either near the airport or near the hotel, where they reside at rates that are predictably lower. This means that travelers can get the parking slots that they opt for at a considerably lower price. Extra dollars in their pockets means that they can spend more on their trip. In short, it keeps travelers happy and less stressed out. That's why TravelCar has so many takers.
Parking charges go hand in hand with the duration of parking. While parking fees are waived off for long-time parkers (over three months), those who pay for parking find it doesn't pinch their pockets.
While TravelCar's parking lots are within 5 minutes distance from the airport, travelers don't feel the distance because of complimentary shuttle services offered by the parking provider. Not only are the shuttle services frequent, they are easy to access and are very comfortable.
Apart from cheap parking, TravelCar has other tempting options lined up- valet services, automated parking and car wash and other services. Opting for valet services is perhaps the next best thing that travelers can do. TravelCar ensures that your car is safe and secure till you come back from your trip.
TravelCar parking locations
TravelCar is headquartered in Paris and has spread its wings to touch more than 10 European countries. The fact that a large majority of the parking populace turn to TravelCar for help shows the popularity rating of the provider. Its parking solutions are available at:-
Airports:-
Ottawa Macdonald–Cartier International Airport, Calgary International, Montréal-Pierre Elliott Trudeau International, Billy Bishop Toronto City, Quebec airport are some major airports in Canada, where secure parking spaces are always at a premium. TravelCar provides secure and cheap parking solutions that are highly acceptable.
Train Stations:
Ottawa Train Station, Pacific Central Station, Waterfront Station, Québec, Montréal, Gare Lucien-L'Allier Station, and Toronto Union Station are important train stations in Canada, where the buzz of activity hardly subsides. TravelCar has made great inroads providing low-cost parking spaces at such places.
Cruise Ports:-
Port of Ottawa, Port Metro Vancouver in British Columbia, Port of Montreal in Quebec, Port of Halifax in Nova Scotia, Port of Toronto are constantly subjected to heavy traffic- However, thanks to TravelCar's presence, the problem of parking has never really surfaced.
Ottawa Macdonald–Cartier International Airport Gates Presentation
| | |
| --- | --- |
| Passenger Terminal | Three levels |
| | Level 1- no gates |
| | Level 2- Gates 1 to 14 on the left |
| | Gates 15,16, and 17 in the middle |
| | Gates 18 to 28 on the right |
| | Level 3- Access to gates 1-18 |
The passenger terminal at Ottawa International has 3 levels-
Level 1- house Arrivals and baggage claim, information, and transportation counters and other services.
Level 2- houses security and hold-rooms and gives access to gates 15, 16, 17. Gates 1-14 are on the left side and 18-28 are on the right.
Level 3- consists of the check-in counters for international and domestic flights, separate check-in for the U.S, access to gates 1-18 and other services are also present.
Advantages of booking through TravelCar
Pricing and trust:
TravelCar, the trusted and reputed parking provider has been in the news for all the right reasons- its booking process is notably very simple and seamless, its parking charges are customer-oriented, it offers a genuine alternative when compared to other parking providers and its rates are open to comparison. Almost everything that you would look for in a parking provider.
TravelCar's reputation extends beyond the contours of pricing and trust- it excels in professionalism and extends top notch customer services. It's no wonder that it scored a 9+ on Trustpilot- a rating agency of high repute. Other rating agencies were also all praise for the good work tendered by TravelCar.
An added incentive is that TravelCar's low cost parking lots are close to the airport and its friendly shuttle services transport you from the parking lot to the terminal and back. This ensures that you're comfortably well in time to catch your flight and can also make it to a business appointment when you return.
Prompt Valet Services:
Gone are the days when valet services were associated with restaurants and the food industry as such- TravelCar's valet services are in great demand as they are very convenient, especially for those who find parking a 'chore.' This is a convenience that passengers revel in as it ensures the safety and security of their car during their absence and also does away with the need for them to be bothered about the 'intricate parking' at airports.
The moment you enter the airport, you can afford to forget about your car- a valet takes charge of your car and your car keys and allows you to walk off without another thought. Efficient valets park your car, keep the keys in safe custody- in short, they take care of the cars as well as the owner does. By opting for valet and allied services, travelers can ensure that their cars are in good hands. Valets are a personal luxury and an affordable one at that- they lend that personal touch and make travelers feel so good that it's worth investing in TravelCar's efficient and prompt valet services.
Courteous and Efficient Customer Service
Connecting with customers and providing an experience that's memorable is the motto of TravelCar. This is something that it never compromises on. Starting with the booking process and extending well beyond the allocation of parking spaces, TravelCar's approach and dedication are really noticeable. All its units work in unison to ensure that customers go away satisfied and happy. Customers are the basis for the success of any organization- that's why TravelCar strives hard to make their customer journeys- happy ones.
All customer teams and personnel are available to answer queries and customers can avail of their services whenever they want- 24/7. TravelCar operates on a 'single premise'- if it makes customer satisfaction a priority- then customers will care about its services and opt for them. Loyal customers are worth their weight in gold- so TravelCar doesn't miss any opportunity to retain existing customers and consequently keep more coming into its fold.
Access to Ottawa Macdonald–Cartier International Airport
Macdonald-Cartier is easily accessed by public transit, shuttle buses, and airport limos.
Ottawa's public bus service- OC Transpo operates to and from the airport. The public transit system is made up of OC Transpo bus service and the O-Train light rail system.
Route 97 connects with the O-Train that goes to downtown Ottawa, from where the airport can be accessed.
The YOW Airporter operates a door to door service and touches various hotels in the city center.
Route 97- most hotels in downtown are close to the 97 route that runs from east to west through the center. It covers major hubs throughout the city and transports people from those areas to the airport terminal
Route 97- also operates between the airport via a transitway and has connect. to the O-Train Trillium Line and also many other major bus stations
Route 97 operates between Bayshore station and ends at South Keys Station or the airport
Bus - 4, Bus - 97- runs between Arlington Avenue, Ottawa and YOW- journey time 52 minutes
Bus -97 -from Laurier Avenue East, Ottawa to Ottawa Macdonald-Cartier International Airport- journey time is 40 minutes
Bus - 131, Bus - 104, Bus - 97- from Prestwick Drive, Ottawa to Ottawa Macdonald-Cartier International Airport- journey time 80 minutes
Bus 97 - from Metcalfe Street, Ottawa to Ottawa Macdonald-Cartier International Airport - journey time is 43 minutes
Bus 97 - from 90 University, Ottawa to Ottawa Macdonald-Cartier International Airport- journey time is 37 minutes
Bus -86, Bus-94, Bus-99- operates between Baseline Station and YOW- journey time is 92 minutes
Bus-94, Bus- 99- from Lincoln Fields, Ottawa to Ottawa International Airport -journey time is 90 minutes
By train
The principal train station in Ottawa is Ottawa Station, which is very close to downtown. Fallowfield Station is the other station in Ottawa. Ottawa Station is on bus route no. 94 and 95 and so is Fallowfield station. The bus takes just 5 minutes to reach downtown from where route 97 is available to get to the airport.
Taxi
Taxis are available for the asking as are limousines. Once you book in advance and identify your pickup point, the taxi will transport you to the Ottawa terminal with no hassle at all.
Other information
If you regularly have to fly, then going to the airport would be a rather routine affair. And yet, no matter how many times that happens, there are always occasions where you get caught in a traffic jam or worse still- cannot find a parking place at the airport. You're tense and wound up and wonder if you will ever make it to the flight in time. This is where TravelCar really scores over many others with its low-cost parking spaces and free shuttle services. You can afford to put your worries behind you and travel in a liberated frame of mind.