Billy Bishop Toronto City Airport Parking
At the foot of Bathurst Street, very conveniently located, just a few minutes away from downtown Toronto, is the Billy Bishop Airport (YTZ).
YTZ is often considered as a "business airport" because of its proximity to downtown Toronto and the financial markets. It is a key international gateway to Toronto and plays an important role in its economy. The airport was open to commercial flights in 1939. Passenger traffic in 2017 was 2,700,000.
A pedestrian tunnel and a short ferry ride ensure that the mainland connects easily and conveniently to the Billy Bishop Toronto City Airport. Its urban accessibility makes it a central hub for weekend escapes and quick businesses.
The airport has one short runway, one main east-west runway and also a seaplane base. There is a single passenger terminal which has 10 gates. The airport is stated to have limited parking facilities.
TravelCar, reputed for its cheap parking facilities gives travelers the opportunity to avail of 'inexpensive parking and a host of affordable allied services.'
Billy Bishop Toronto City Airport Address and Map
| | |
| --- | --- |
| Airport's legal address | 2 Eireann Quay, Toronto, ON M5V 1A1, Canada |
| IATA code | YTZ |
| Airport type | Public |
| Phone number | +1 416-203-6942 |
| Airport's traffic | Passenger traffic in 2017 was 2,700,000 |
| GPS coordinates | 43°37′42″N 079°23′46″W |
Bishop Toronto City Airport (YTZ) is located in Lake Ontario on the Toronto Islands and is often referred to as the Toronto Island airport. It was named after Billy Bishop (a Canadian 1st World War flying ace) and acquired its current nomenclature on November 10, 2009. It operates flights to more than 20 cities in the U.S. and Canada and serves downtown Toronto and also the metropolitan area.
YTZ is regarded as one of the best airports in the world (in the under 5 million category), regarded as a top regional airport in North America. In 2017, it was rated the 9th busiest in Canada, the 6th busiest in terms of passengers to the United States and figures among the Top Ten airports in the world, having the most "Beautiful Airport Approaches". It is owned and operated by PortsToronto.
TravelCar, a parking provider of repute, has been extremely effective at providing low cost parking at busy airports and the like.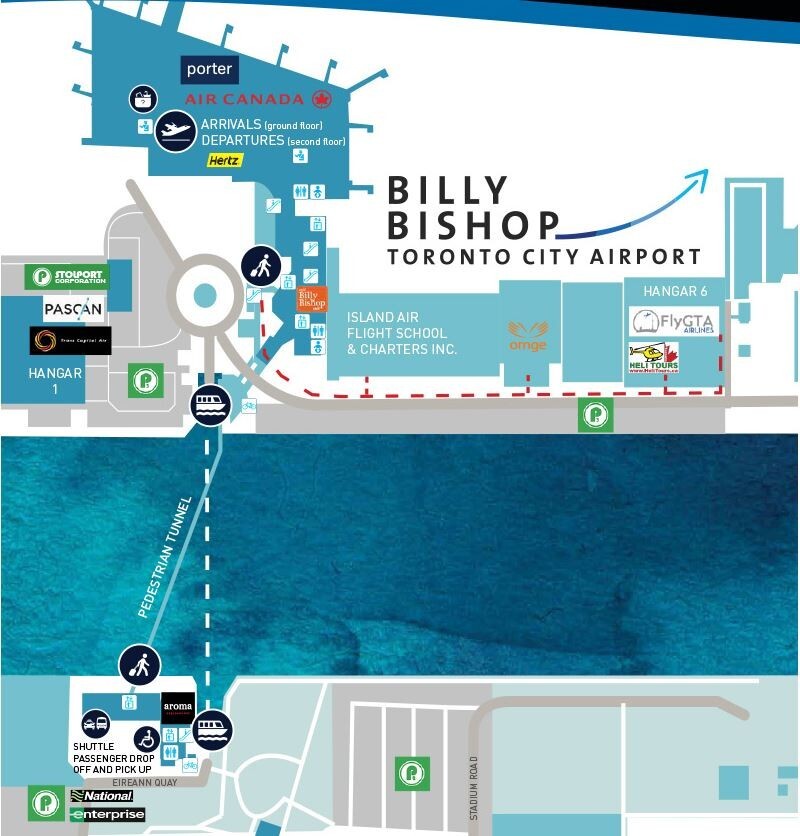 Cheap parking
The Billy Bishop City airport is smaller than Toronto Pearson international and although it does have parking facilities, it's hardly sufficient to cater to the demands of this immensely busy airport.
TravelCar with its great reputation for cheap parking facilities can jump into the fray and provide parking amenities near the airport. For those residing in nearby hotels, the parking provider can offer travelers cheap parking spots close to their hotels.
You would expect that the longer you parked your car, the more you would end up paying as parking fees. However, that's not so with TravelCar- Fees are waived in respect of those that park their cars for over 3 months and allow their cars to be rented out for short durations to TravelCar customers. That's not all- travelers never complain about the parking fees that are chargeable for shorter durations because they are so reasonable.
Low cost parking is not the only attraction that TravelCar has- its parking lots are very close to the airport and as free shuttle services ply to and fro from the parking areas to the terminal, even this distance is hardly noticeable. Its shuttle services are convenient, comfortable and easy to access.
Opting for automated parking or TravelCar's valet services also benefit travelers immensely. Cars that are valeted are safe and secure and under constant video surveillance. The best and most important part is that valet services are extremely affordable- cost just a little more than ordinary parking does but with a whale of allied advantages.
TravelCar parking locations
TravelCar, the small parking provider that has a big reputation, has a bigger outreach at busy city centers, cruise ports, airports, downtown regions and at train stations too.
Airports:
The Montréal-Pierre Elliott Trudeau International, Toronto Pearson International, the Hamilton International, Billy Bishop Toronto City Airport and Downs view Airport in Ontario, Canada are busy places teeming with passenger activity. Finding parking spaces is very difficult- that's why TravelCar's offerings of low cost parking are greeted avidly.
Train Stations:
Toronto Union Station, Pacific Central Station, Waterfront, Gare Lucien-Allier Station, Central Station/Gare Centrale, Montréal, Québec are important rail stations in Canada. As such car-parking does pose problems as the number of spots available are less than the demand. With TravelCar's options of free and low cost parking, these problems have eased considerably.
Cruise Ports:
Port of Toronto in Toronto, Port of Colborne, Port Weller, Port of Oakville, Port of Hamilton in Ontario, Port Metro Vancouver in British Columbia, and Port of Montreal in Quebec are all busy ports. Visitors and passengers throng these places and parking is scarce. With TravelCar in the vicinity, the parking problem is alleviated.
Parking lots need to be secure and TravelCar understands its importance. That's why security is a top priority in its parking lots.
Billy Bishop Toronto City Airport Gates Presentation
| | |
| --- | --- |
| Single Passenger Terminal | 10 Gates |
| | 1 Central Waiting Area serves all the gates |
The airport has two runways and a seaplane base. The terminal at Billy Bishop City Airport is a little unique in the sense that there are no separate waiting areas for each gate. As the airport is small, a single waiting area caters to all the 10 gates. Though this appears to be a little disconcerting at first sight, the waiting area is rather comfortable.
Arrivals - housed on the ground floor
Departures- housed on the second floor
Long-term parking and short-term and is available on the island and at the dock.
The pedestrian tunnel links the mainland to the airport- this underwater tunnel is about 100 feet below the surface. Till its construction in 2015, the airport and mainland were connected by means of a ferry service. Now, four automated walkways in the tunnel transport people to the airport in a very short time.
Advantages of booking through TravelCar
Pricing and trust:
People generally tend to opt for those parking providers that offer quick and inexpensive service and that's why TravelCar is a favorite. Its customer-centric approach starts with a simple and easy booking process and ends with the allocation of convenient, suitable and affordable parking spaces. The friendly environment and easy approachability make TravelCar, a provider with a 'big difference.'
Trustpilot and other rating services have looked upon TravelCar very favorably. In fact, Trustpilot, while commending its professional approach and dedication to helping travelers secure parking spots of their choice, accorded the parking provider with a superior score of 9+. TravelCar's credibility rating is high and when coupled with low cost parking options and excellent customer service, the parking provider's status remains unshakeable.
With many of its parking lots close to the airport and hotels in the vicinity, TravelCar offers choice options to travelers. Needless to say its shuttle services from the parking lots to the terminal are a huge plus for those who are in a hurry to catch their flights.
Prompt Valet Services:
If TravelCar's parking lots are a boon to travelers in search of inexpensive parking, then its valet services and automated parking are a real 'godsend'. The traumatic act of parking at an airport is nullified by these services and travelers heave a sigh of relief while availing this convenience for a very small price.
Valets are a 'manna from the heavens', especially for those that abhor the act of finding parking spots for their cars. They work quietly and efficiently and without much ado, park cars for travelers in safe and secure spots. Passengers need never worry about how their cars are maintained or how they are kept. Valets come with a 'personal assurance of security and safety' and offer to relieve you of all your 'vehicle worries' during your absence.
Courteous and Efficient Customer Service
Customer service is all about delivering value-add and making customers feel important and satisfied. That's exactly what TravelCar does- makes its customers feel good by providing excellent service. It's not about what you give customers but how you make them feel while conducting business with them. TravelCar is very particular about how its customers are treated, how their queries are answered and how they react to situations.
TravelCar's customer team have a lot of experience under their belts and know how to cope with live issues that threaten to 'mountain up'. The team and all personnel have just one refrain- 'the customer is important and customer-satisfaction is a must.' TravelCar is open 24/7 and that's why travelers know that help is always at hand when they most need it- during booking and reservation of spaces.
Access to Billy Bishop Toronto City Airport
This small airport situated on an island is very close to downtown and is easily accessible.
This small airport situated on an island is very close to downtown and is easily accessible.
Ferry services
These operate between a fixed location (foot of Bathurst) and the airport from early morning to midnight. The distance is just 121 meters and the service is frequent and regular. Though it's free for pedestrians, vehicles have to pay $11 for a round trip.
Shuttle services
Free bus services- between the airport and the intersection of York Street and Front Street. Pick up points are on the south side of Front Street and south-west corner of York Street.
Complimentary shuttle services- between Toronto Union Station and YTZ
Pedestrian tunnel
The tunnel, which opened on July 30, 2015, is about 853 feet and connects the mainland to the airport. The journey time is just 6 minutes to the check-in area at the airport. Anyone can access the tunnel, which has 4 moving walkways and a very long escalator.
Bus and Streetcar
Bus 506, Streetcar 511- operate between Goodlife Fitness center and Billy Bishop Airport Ferry Terminal, from where the airport can be accessed
Bus 145, Streetcar 501- operates between Humber college-Lakeshore Campus and Billy Bishop Airport Ferry Terminal- journey time 62 minutes
Streetcar-509 and using Subway-1- Public transit connects Starbucks, Toronto with the Billy Bishop Airport Ferry Terminal
Bike
At the top of Eireann Quay is the Bike Share Toronto stations from where you can bike your way to the airport and then lock it up in the Bike Lock-up that is adjacent to the ferry terminal.
Taxi
These are located on the mainland outside the ferry terminal at the taxi stands. You can easily access the airport using a taxi.
Other information
Getting to the airport on time and catching your flight is what you want to do, but there's always a niggle here or there that prevents you from having a worry-free trip. Worst of all, just thinking of finding a parking space at the airport is enough to give you the jitters. You circle and circle without finding a vacant spot and when it's time to catch your flight, you find you have to desert your car or just leave it in some old place (which will probably attract a fine.)
If you don't want any of that to happen, then avail of TravelCar's parking services and you're rid of the bother of parking at the airport. Valets will take charge of your car and do what's needed without bothering you at all.