Ever wondered about the origin of Presidents' Day? It celebrates the birthday of George Washington, commander of the Continental Army during the American Revolution and the first president of the United States, who was born February 22. Although still referred to as Washington's Birthday by the government, the name was changed to President's Day in the 1960's to included President Lincoln's birthday, which is February 12. In celebration of the upcoming holiday, we've compiled a list of five places to visit to celebrate past presidents.
Looking for Lincoln: Lincoln Heritage Area, Springfield, Illinois
About three hours outside of Chicago sits the beautiful town and capitol of Illinois – Springfield. While some will say it's no comparison to George Washington's Mount Vernon, a large plantation on the Potomac, or even Thomas Jefferson's mountain retreat Monticello, Abraham Lincoln's hometown in downtown Springfield has proved irresistible to visitors. While in Springfield, President Lincoln seekers can get lost in so much history you will spend days here. As part of the Lincoln Heritage Area, attractions include the Abraham Lincoln Presidential Library, Lincoln Home Natural Historic Site, Lincoln Heritage Museum, as well as statues, courthouses and even his tomb. When visiting, you will feel the Lincoln legacy brought to life. TravelCar has your O'Hare airport parking and car rental needs when departing from or landing at Chicago O'Hare (ORD).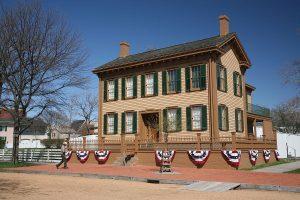 Keeping up with Kennedy: Kennedy Space Center, Titusville, Florida If you happen to visit Orlando, a stop at the Kennedy Space Center in Titusville, about an hour's drive, is a must for any aeronautics and space buff. And while, yes, the Space Center itself is named after John F. Kennedy and will certainly get you excited about space exploration, it's the John F. Kennedy Fountain that will touch your heart. Issuing a challenge to place humans on the moon by the end of the 1960s, President Kennedy inspired NASA to win the Space Race with the July 1969 moon landing of Apollo 11. On the fountain are his inspirational words, "For the eyes of the world now look into space, to the moon and to the planets beyond, and we have vowed that we shall not see it governed by a hostile flag of conquest, but by a banner of freedom and peace." TravelCar has your Orlando airport parking and car rental needs when departing from or landing at Orlando International Airport (MCO).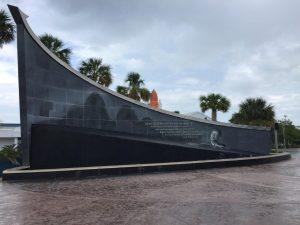 Researching with Reagan: Reagan Ranch Center, Santa Barbara, CA
A fabulous weekend getaway from Los Angeles is to Santa Ynez wine country, about two hours north of LA by car. And while you can eat and drink until your heart's content, a stop at the Reagan Ranch Center in Santa Barbara won't let you down. Referred to as White House West, President Reagan's Ranch served not only as his private retreat and vacation home, but his sanctuary where he came to contemplate some of his most difficult political decisions. While the ranch is off-limits to the public, visitors to the Regan Ranch Center will get an inside look at what the ranch looks like, as well as take in presidential memorabilia such as a 5,000-pound graffiti-covered section of the Berlin Wall, his leather bound Bible, which he swore on during both inaugurations, and an audio center where you can listed to official phone from his ranch, including a call about Space Shuttle Challenger. TravelCar has your Los Angeles airport parking and car rental needs when departing from or landing at LAX.
Floating with FDR: USS Potomac, Oakland, CA Welcome aboard the "Floating White House"! In Oakland, California, a 30 minute drive from San Francisco across the beautiful Bay Bridge, you will find the USS Potomac which served as Franklin Delano Roosevelt's Presidential Yacht until his death in 1945. Today, guests can choose between a live-narrated two or three-hour cruise along the San Francisco Bay (available from June through November) or take a dockside tour, open Wednesdays, Fridays, and Sundays from 11:00am to 3:00pm. Either way, guests will learn about the history of the Bay Area and the surrounding landmarks as well as the effect President Roosevelt's administration had upon the Bay Area while aboard the outstanding 165 foot long vessel. TravelCar has your San Francisco airport parking and car rental needs when departing from or landing at SFO.
Grieving with Grant: General Grant's National Memorial (Grant's Tomb), New York, New York New Yorkers take their memorials seriously as evident from the John Lennon memorial in Central Park to the World Trade Center site. But nothing can compare to the stately memorial of General Ulysses S. Grant. General Grant's National Memorial, or Grant's Tomb as it's commonly called, rests on the island of Manhattan in Riverside Park. Grant's Tomb is the largest mausoleum in North America and it's a testimony to people's gratitude for the man who ended the bloodiest conflict in American history as General of the Union Army and then, as President strove to heal a nation after a civil war and make rights for all citizens a reality. It's truly a site to see. TravelCar has your New York airport parking (JFK) and New Jersey Newark airport parking (Newark, EWR) needs.