Every New Year, many people set resolutions as a way to change something in their life. At TravelCar, our resolution is to help you save money so you can travel more. Whatever your New Year resolution, traveling can help you do it! That's why we've put together a list of five places to visit in 2018. Whether you want to save on airport parking or car rental, TravelCar can help. Visit us at www.travelcar.com to check our latest rates.
Five New Adventures to Try in 2018
If your goal is to exercise more: Go Hiking in Cinque Terre, Italy Italy is known for its beautiful cities and countryside and Cinque Terre is among the most picturesque. Composed of five small villages perched above the Ligurian Sea, the area dates back to the late medieval period. Today, Cinque Terre is not reachable by car and while visitors can access it by train or boat, neither provides the same experience as by foot. As you slowly descend from the rocky cliffs to take in the views of the brightly painted fishing villages, you will find yourself breathless from beauty. The main hike is about 11 miles and usually takes nearly five hours, but there's a shorter, paved version which offers a half mile stroll for travelers of all ages.
If your goal is to be one with nature: Go Sea Kayaking in Chilko Lake, British Columbia Not only is the Chilko Lake Region magical and mystical, as one of the British Columbia's largest salmon spawning grounds, it attracts a large number of grizzly and black bears hunting for fish. This makes for incredible wildlife viewing and photography opportunities. Rent a kayak in the morning for the best animal spotting opportunities where you might catch a glimpse of otters, beavers, a variety of birds, and, of course, bears.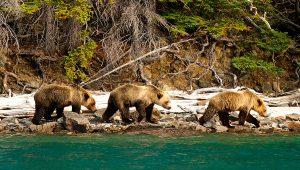 If your goal is to be more adventurous: Go Skywalking on Tianmen Mountain, Zhangjiajie, Hunan, China Located about 800 miles from Shanghai, you will find the Skywalk on Tianmen Mountain, a glass bridge which suspends visitors 4,700 feet (1,430 meters) high in the air. If you can brave it, you will see amazing views of Tianmen Mountain in Zhangjiajie National Forest Park, as well as neighboring mountains and the Hunan Province. No shoes are allowed and all visitors are required to wear sock booties because they have been unable to find workers willing to clean the glass floor at this height!
If your goal is to try new foods: Eat Street Food in Bangkok, Thailand If you're looking to try new foods this year, Bangkok is the place to do it. Soi Rambuttri, a U-shaped lane off of Khao San Raod and near Wat Chana Songkhram, is the best spot in the old district of Bangkok where street vendors are plentiful and the food is delicious. Make sure to bring your appetite because you will find yummy foods such as pad thai, green papaya salad, and mango sticky rice.
If your goal is to relax more: Try Sunbathing on the city beach in Paris, France (our hometown!) It's not surprising that the culture which gave us the bikini would also be the first to figure out how to bring the beach to their fabulous city! The original "plage urbaine," the Paris Plage began in 2002, with the French converting the Seine's banks into pedestrian areas as well as sandy sunbathing spots. The first plage spread from the Louvre to the Pont de Sully on Voie Georges Pompidou, covering almost two miles along the Seine River. The popularity of the event caused organizers to build additional plages at Port de la Gare and Bassin de la Villette. The beaches open around July 20 and usually last four weeks, with all Paris Plages open until midnight daily.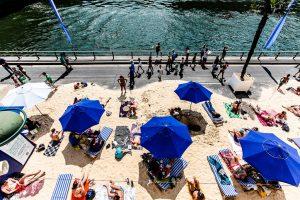 Here's to a 2018 with lots of travels!